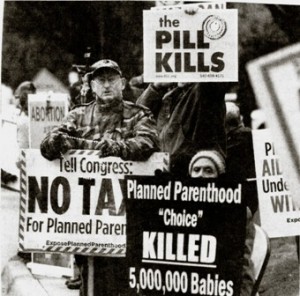 Prayer Warriors Photo In Dallas Morning News 2-17-2012
Click Here to read an article by Aaron Russell about the true mission of Catholic Prayer Warriors
Welcome to CatholicPrayerWarriors.com, a site focused on helping faithful Catholics achieve a greater relationship with the Trinity…The Father, Son and Holy Spirit.  Our world is spiraling out of control. Every segment of our society needs prayer desperately: Our military and their families, your spouse and kids and other family members, our spiritual and political leaders and our enemies.
God says, in Matthew 5:43:"You have heard that it was said, 'Love your neighbor and hate your enemy.' But I tell you: Love your enemies and pray for those who persecute you, that you may be sons of your Father in heaven." and in Luke 6:26:"But I tell you who hear me: Love your enemies, do good to those who hate you, bless those who curse you, pray for those who mistreat you."
The tools to accomplish this worthy goal are:
The Sacrament of Reconciliation twice a month or when needed for spiritual purity
Daily communion
Praying all 4 mysteries of the rosary every day
Eucharistic Adoration weekly
Fasting once a week for 24 hours
Reading the Christian Prayers in the "Liturgy Of The Hours" when you can
Tithe 10% of your income or invest 10% of your time in if you don't have income (2.4 hours a day) in service to the Body Of Christ, the Church
After 62 years, God has revealed to me the importance of going to Mass daily and receiving the Holy Eucharist. He wants me to pray all the mysteries of the rosary: the Joyful, Luminous, Sorrowful and Glorious and read the "Liturgy Of the Hours" every day.
Fasting 1 day a week for spiritual enlightenment and strength has really helped in discerning God's will for my life. I now understand the importance of praying daily for every individual past, present and future that God ordained to cross my path. It is important we pray for all citizens of the world, that God would stop the wars, religious persecution and political oppression.
Needless to say, it is a humbling experience to spend so much time with God, striving to understand and fulfill His unique mission for my life. As I spend more time in prayer and worship, especially prostrating myself before the Holy Eucharist during Eucharistic Adoration, His will for me is obvious through unexpected events that occur throughout the day.
You too can become a spiritual advocate for your family, friends and all of mankind who do not yet have a full relationship with Jesus Christ, the Holy Spirit and God the Father.
Often a phone call, car problems, a crisis in someone's life and other difficult situations identify a priority mission. He wants you to get involved immediately in helping other sojourners in life. Ultimately, His will is done through your helping others He brings into your life. It is through these brother and sister souls that you experience the greatest joys and sorrows.
This requires lots of Faith and Grace that God provides in abundance. He insures the success of your long term projects, that are in harmony with His Will. Earning a living, keeping the temple of the Holy Spirit healthy and serving others in the Body Of  Christ are taken care of in often miraculous ways, with discipline and some hard work on your part.
God promises to always, "Give us this day our daily bread, forgive us our trespasses as we forgive those who trespass against us, and lead us not into temptation, but deliver us for evil we beseech You O Lord. Grant us peace in our days so that aided by Your Mercy we might be ever free from sin, protected from anxiety as we await the blessed hope and joyful coming of Lord and Savior Jesus Christ, for Thine is the kingdom, the power and glory forever. Amen"
When you have a strong, fulfilling relationship with God, you look at your past, present and future through His eyes. God has a good reason for every event. The sooner we accept God's influence in our lives, the faster we can discern His loving plan for our lives that is vastly superior, more fulfilling and exciting that anything we could choose.
All the highs and lows, pains and pleasures, sufferings and rejoicings become the foundation of a life well-lived. According to His purpose, there is a silver linings to every dark cloud that enters our lives. You can share with the world all the blessings that have been showered down upon you over a lifetime in miraculous ways on amazing days.
Surviving and thriving in tjese difficult time is easier as a Prayer Warrior, who battles the demonic forces arrayed against our military, your family, church and community. The safety and well-being of your spouse, kids,  grandkids, in-laws and outlaws is your priority.
Your greatest ability to help them and yourself is through daily communion, Eucharistic Adoration, fervent prayer, fasting and doing penance for them. It is a good idea when you wake up every morning to "Put on the Full Armor of God: the Helmet of Salvation, Breastplate of Righteousness, Girdle of Truth, Feet shod with the Preparation of the Gospel of Peace, Shield of Faith and the Sword of the Spirit, which is the word of God."
If you can help just one person get to heaven, God will be happy to see you when you show up at the Gates of Heaven. Your greatest joy will be to hear Jesus say, "Well done, good and faithful servant. Enter into the joy of your Master's house."
By spending time with those who need to experience the true love of the Father, you can help them on their way to eternal life. You also feel the greatest joy when your help others without expectation of return, true agape love.
"Oh my Jesus, forgive us our sins. Save us from the fires of hell. Lead all souls to Heaven, especially those in most most need of Thy mercy."
By listening, loving, helping and encouraging rather than judging, condemning and giving advice, you can make a positive difference in their lives. Become a loving servant, true advocate and ambassador of Jesus Christ. You can help save the many souls falling into hell like snowflakes. Through your prayers and service you can help potentially lost souls receive the adequate grace they need to repent and experience eternal life.
It is not so much what you say as what you do that has the biggest impact on the lives of others… for good or evil. As you follow in the footsteps of Jesus Christ, whose words and actions matched perfectly, your only hope for eternal salvation is to take up your unique cross and follow Him, becoming the suffering servant to everyone God places  in your life.
Knowing, understanding and following the true teachings of the Catholic Church is critical for your success in this life and eternity. Like the Bereans, who studied the scriptures daily to make sure the spiritual leaders were preaching the truth, you must study the Bible, Magisterium and oral tradition to insure you follow the truth of God's word, jealously protected by God's Catholic Church from the beginning of time.
Salvation and eternal life for you and everyone in your life is a worthy goal. In the endless battle for souls, ignorance is not bliss when it comes to your eternal life. True repentance and the Sacrament of Reconciliation restores your relationship with our Savior. It is important for you to know, embrace and do the true teaching of the Catholic Church. You are wise when you invest some time to insure you know the truths our your Catholic faith. Life is miserable when mortal sin cuts you off from the abundant forgiveness, mercy and compassion of God.
The witness of your love, humility, kindness, generosity, empathy and compassion and actual service to others will be the only book the people God puts in your life will ever have the opportunity to read. Through you they will experience the true reality and mystery of God's Faith, Hope, Love, Mercy, Grace and ultimately Eternal Salvation.
Warm regards,
A Catholic Prayer Warrior