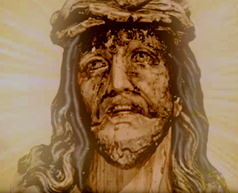 Tim Francis prepared this educational program to help you increase your faith and love for the Holy Trinity and our Blessed Mother. His website is http://YouShallBelieve.com
I have known Tim for many years and recommend his work highly. He is a strong advocate for the "The Real Body and Blood Of Jesus" and the numerous miracles that occur on a daily basis. Both of us are greatly inspired by the amazing writings of Catalina Rivas.
Catalina is one of the few individuals in history who personally experienced the "Stigmata Of Jesus Christ." The video below was broadcast on FOX TV.
Through Catalina's writings, Jesus and our Blessed Mother provide an insightful commentary about the Holy Scriptures, the Magisterium and oral tradition. You can learn more about Catalina Rivas at her website where you can download all her books for FREE: 

Catalina Rivas Website LoveAndMercy.org/english-books

/
Gospel John 15:9-17
Jesus said to his disciples: "As the Father loves me, so I also love you. Remain in my love. If you keep my commandments, you will remain in my love, just as I have kept my Father's commandments and remain in his love.
"I have told you this so that my joy may be in you and your joy might be complete. This is my commandment: love one another as I love you. No one has greater love than this, to lay down one's life for one's friends. You are my friends if you do what I command you. I no longer call you slaves, because a slave does not know what his master is doing. I have called you friends, because I have told you everything I have heard from my Father. It was not you who chose me, but I who chose you and appointed you to go and bear fruit that will remain, so that whatever you ask the Father in my name he may give you. This I command you: love one another."
The Catechism of the Catholic Church
1823 Jesus makes charity the new commandment. By loving his own "to the end," he makes manifest the Father's love which he receives. By loving one another, the disciples imitate the love of Jesus which they themselves receive. Whence Jesus says: "As the Father has loved me, so have I loved you; abide in my love." And again: "This is my commandment, that you love one another as I have loved you."
From "Springs of Mercy" Testimony of Catalina Rivas (SM 60:5)
5) You must learn to live with faith, understanding, tolerance, and peace, and to achieve that, you will have to learn to live together and to accept and love one another.
Each week we will be presenting a portion of the following Sunday's readings, and linking it to relevant parts of the Catechism of the Catholic Church and messages from the Testimony of Catalina. Pay special attention to the italicized underlined sections. Any comments you have are certainly welcomed.