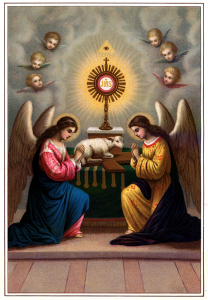 Catechumen:  
Just checking in quickly.  I'm going to go ahead and become a Catholic; I feel God has lead me to this place.  Had a long talk with my sponsor over dinner, moving Tennebrae service last night, and and extremely moving Holy Thursday ceremony.  I'm a little nervous about confession (I know it's all confidential, but what will the young Father think of me?) 
I am a reformed heroin addict and alcoholic (in that order; thank God, it's all ancient history now).  God opened the doors for me to become a professional musician 8 years ago, after not playing a musical instrument for 42 years. I finally found out what I'm supposed to be doing in this life – thank you, Lord  (I got to play Christmas music in the church on Christmas Day).  My wife, is joining the Church with me; both of us come from liberal, mainline Protestant backgrounds.
Thanking you again for your prayers and kind words of support; let's keep in touch. 
Hove a wonderful Easter and God bless you,
Dear Catechumen,

What a miracle. God does answer our prayers. He loves you so much.
I am sure every priest is thrilled and uplifted when they hear awesome confessions where God has done great things. Where much is forgiven there is great gratitude. You now will want to serve the Creator with all your heart in appreciation for for His gift of salvation.
Being totally free of your sins is a supernatural experience you will cherish for all eternity. Hurray for the Sacrament of Reconciliation where your sins are truly washed away. Also, receiving the real Body and Blood of Jesus is miraculous every time.
Keep me updated on you walk with our Savior. You and your family are now in my prayers for eternity. I look forward to meeting you in Heaven.
(-:
Ralph