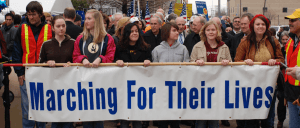 North Texas Catholic Brothers for Christ to be among the thousands at this Saturday's March for Life in downtown Dallas – WEAR YOUR RED MINISTRY SHIRTS!
 Please join the thousands of people expected to gather this Saturday in downtown Dallas for the annual March for Life, www.prolifedallas.org/roe. This year's march commemorates the 45th anniversary of the Roe vs. Wade abortion decision that legalized abortion in America, and has led to the death of about 60 million unborn children.
The March for Life schedule of events has many components outlined below. You, family and friends are welcome to attend any or all of them. More info: http://www.cathedralguadalupe.org/webcontent/index.html
All members of our North Texas Catholic Brothers for Christ ministry who can attend are strongly encouraged to proudly wear one of your RED team member shirts to let others know we stand with the other faithful and draw upon the Holy Spirit for strength! This is also a good time to spread the word about our upcoming 7th annual Men's Conference on Saturday, April 21, http://www.ntxcmc.org/.
Saturday Schedule of Events
8:30 a.m. Youth For Life Rally at St. Jude Chapel (pre-register atwww.prolifedallas.org/yflrally
8:30 a.m. Prayer Vigils at Southwestern and Planned Parenthood abortion facilities
10 a.m. Procession of Roses at Cathedral Shrine of the Virgin of Guadalupe, 2215 Ross Ave.
10:30 a.m. Roe Memorial Mass (bilingual) at Cathedral Shrine of the Virgin of Guadeloupe
12:30 p.m. North Texas March for Life from Cathedral Guadalupe in downtown Dallas to Rally outside the Earle Cabell federal courthouse, 1100 Commerce St.
The rally will feature many, including Bishop Edward Burns of the Diocese of Dallas, Deborah McGregor of CareNet Waco, Christian radio host Dr. Adam Dooley, and music by Anointed for Battle with Delilah Gonzales.